Mid-Day.com, Monday March 29, 2010, New Delhi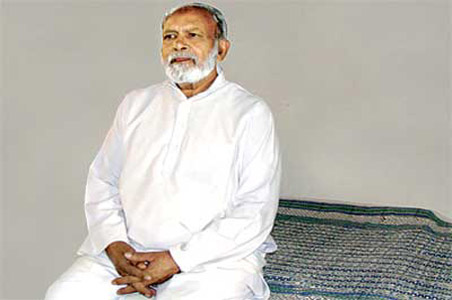 Mid-Day.com

Mohammad Ameen is a proud father today, though his son is long dead and buried.

What has changed for the 55-year-old from Sanjarpur village in Azamgarh district of Uttar Pradesh is a response to a Right to Information plea that his son, Atif Ameen, may not be an Indian Mujahideen terrorist on the suspicion of which he was gunned down in the controversial Batla House encounter on September 19, 2008.

According to the autopsy report, which was revealed after an RTI plea, the bullet wounds on the body of Atif - who was a Jamia Millia Islamia student and used to put up with his friends at the L-18 Jamia Nagar suggest that the allegations of him being killed in a gunfight might be wrong.

But Mohammad Ameen is concerned only about the fact that now nobody would dare call his son a terrorist. "No report can bring back my dead son. But it has at least rendered some authenticity to our claim about his innocence," he told MiD DAY. The sudden death of his young son has taken its toll on him but Mohammad Ameen remains resolute to restore the honour of his family.

"I am really thankful that we have so many people supporting us. I have read the post-mortem report, but still I want a full judicial inquiry into the matter," he said. "The police labelled my son a terrorist. But then my son is not alone. In the past, so many people have been meted out the same treatment and this will continue," Mohammad Ameen said. He says it a conspiracy against the minority community. "They are picking on those who can do well in the future."

Mohammed Ameen's mood changes frequently and sometimes he becomes reclusive, perhaps lost in his thoughts about Atif. The suffering and hardship faced by him is reflected in his reluctance to face the media.

The RTI also came as a relief to the family of Mohammad Sajid, roommate of Atif who was fell to the bullets of the Special Cell cops. The police on the other hand lost senior Inspector Mohan Chand Sharma.

Sajid, who had never gone out of his hometown in 17 years, moved to Delhi so that he could be like his role model and cousin Atif. A second year intermediate student, Sajid left his home on July 10 for the first time so that he could join coaching classes in Delhi, as there were no proper arrangements in Sanjarpur, said Dr Ansar-ul Hassan, father of Sajid.

"My son was innocent. He went to study there (Delhi) and he spent just two months in the city before being shot. We got to know through media reports about his death in an encounter. The autopsy report clearly shows it was a fake encounter," Dr Hassan, a BUMS doctor, said.

Dr Javed Akhtar, president of Association for Welfare, Medical, Educational and Legal Assistance (AWMELA), an umbrella organisation of eminent people from Azamgarh, said: "They have clearly seen injury marks/abrasion etc on the bodies that could only be the result of brutal torture prior to shooting at point blank range."

He also ridiculed the "ever changing" police version vis-a-vis the fatal injuries to Inspector Sharma. Dr Akhtar demanded an impartial probe into the incident and emphasised the need for review of all the allegations against Atif and Sajid "in the light of this report."

Classified no more

The highly secretive autopsy report, which the Special Cell of the Delhi Police refused to make public despite repeated demands by civil society groups, and which finally came out of the closet on March 17 after sustained efforts by RTI activist Afroz Alam Sahil, further strengthens the barrage of questions from all quarters challenging the authenticity of the September 19, 2008 police encounter in which the two youngsters from Azamgarh were killed. Special Cell cop MC Sharma too was killed in the 'encounter'. His post-mortem report has also been disclosed. This fact was revealed in the post-mortem reports of Atif Ameen, 24, and Mohd Sajid, 18, provided by the NHRC.

Some points revealed by the RTI


The four-page autopsy reports reveal that Atif Amin and Mohammad Sajid had suffered injuries by a blunt object apart from gunshot wounds.

Eight out of 10 bullet entry wounds on the body of Atif are on the back side, in the region below the shoulders and at the back of the chest, which point to the fact that he was repeatedly shot from behind.

Sajid's post-mortem report says there were two wounds on his body which were not caused by a firearm. These injuries were antemortem in nature i.e caused before his death.

Sajid was shot three times in the head with the bullets travelling downwards.